ABOUT US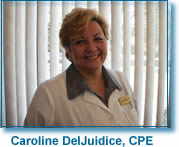 Welcome to my website and I applaud your decision to learn about Electrolysis, the only proven method for permanent hair removal.
I am a Board Certified Professional Electrologist (CPE) since 1987, a credential that is testimony of my commitment to the client and to the profession. I have been practicing in Westchester County for over two decades treating men, women and teens from Yonkers, Ardsley, Scarsdale, Hartsdale, just to name a few cities and towns here as well as treating clients from the Bronx and New York City.
In addition to my practice, I actively participate in my profession's organizational activities to keep current with developments in Electrology. To maintain the highest professional standards, I attend continuing education seminars to retain my CPE credential, as well as hold current memberships in both the New York Electrolysis Association and the American Electrology Association. Throughout my career, I have held various positions in the NYEA and held membership on the AEA's Board of Directors.
My practice is located within the Scarsdale Wellness Center on Central Park Avenue in Scarsdale, New York. The Center's professionals are dedicated to their patients and offer a wide variety of holistic therapies in a comfortable, healthy environment.
I invite you to navigate my site and learn about electrolysis and permanent hair removal. You have my promise that once you make the personal commitment to begin treatment, I will be there and be as committed to you as you are to yourself and will be with you every step of the way to help you achieve the results you desire with electrolysis using the latest techniques and proven expertise. You will see that you have made the right choice in hair removal practitioners, one who is compassionate and caring and one who places your goals for permanent hair removal first.
NEW! APILUS xCell ™ COMPUTER-ASSISTED TECHNOLOGY FOR UNRIVALED COMFORT AND EFFECTIVENESS IN PERMANENT HAIR REMOVAL
I have always taken pride in providing the best possible treatment for my clients and have always upgraded my equipment as it became available over the years offering state of the art computerized technology. The xCell ™ 27.12 technology, the new Standard in permanent hair removal, far exceeds anything that's on the market today. This innovative technology is the first of its kind offered in the area. Be the first to experience it for yourself; this revolutionary way to undergo electrolysis treatments. Its performance is faster, and more comfortable, and offers innovative technique treatment options for any specific hair and skin type, and even offers automatic calibration according to gender, probe, body area and hydration of skin.
My office hours are convenient for most schedules, Monday through Saturday, day and evening appointments. I am conveniently located in Scarsdale, New York and am accessible by major roadways serving the Westchester county NY area.
Thank you for stopping by. I look forward to hearing from you.

Caroline DelJuidice, CPE
Board Certified Electrologist
Electrolysis Achieves Permanent Hair Removal – With Unsurpassed Results