TESTIMONIALS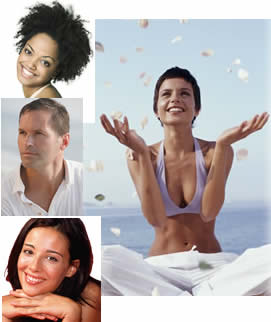 I've been seeing Caroline DelJuidice for about 1 year and have nothing but wonderful things to say about her and her services. For most of my life, I've had a problem with unwanted hair on the side of my face. As a young woman it made me very insecure. Over the course of the year Caroline was able to work her magic and remove the unwanted hair (pain free I might add) and it helped gain back my confidence. I didn't realize how much hair I had until recently when I was looking through old photos. I thought to myself "Boy, am I sure glad I met Caroline!" I'd highly recommend her services. A million thanks Caroline!
– NF
I wanted to express my sincere thanks for the major improvement of my facial hair. For as long as I can remember, probably since I was 13 (puberty age), I have suffered from facial hair. Mainly the bearded area. I am now 39 years old. I have tried everything from waxing, tweezing, creams and even Lazer and nothing has worked.
Starting treatment with you was one of the best decisions I ever made. I have been seeing you now for a little over a year now and cannot believe the results. I started noticing the change after just a few months. At first, I noticed that the hair was starting to become thinner between treatments. In the beginning, I was seeing you once a week and would shave maybe once between treatments. I now see you every other week and no longer shave at all. The hair is now so thin and minimal that the only way I know that it is there is if I feel for it. My husband does not see any hair at all.
I am so pleased with the results, I would recommend you to all my family and friends. I can truly say without hesitation that it works. If it worked for me, it can work for anybody. Thanks again Caroline. You are the best.
– NF
I just wanted to say a huge thank you for the amazing work you've done on my eyebrows.
I've been blessed with a mono-brow and thick, unruly eyebrows which have required me to pluck them every day for at least 25 years - whoever said that plucking eyebrows over time makes them not grow back?! I've been coming to you for a few months now and I can honestly say that I am absolutely delighted with the results - I've been able to throw away my tweezers and finally have the eyebrows I've always wanted, as not only have you rid me of the unwanted hair, but have trained my eyebrows into a beautiful shape.
I would encourage anyone with hair they hate to come and see you and see how life can be changed so simply.
– Claire
Caroline is a diligent professional who is concerned about her craft and providing the best service possible to her customers. I have been a client of Caroline's for years now and keep coming back time and time again because of her attention to detail and insistence on cleanliness and perfection. I would recommend Caroline to anyone without hesitation. She is a top-notch electrologist.
– ML
I was lucky enough to have been referred to Caroline. Since my first appointment, I've noticed a PHENOMENAL improvement in treated areas, namely my chin and eyebrows. Caroline is a knowledgeable and courteous professional who is 100% dedicated to her clients. Not only does Caroline provide effective treatments, but every appointment begins on time, rates are competitive, and the office is very clean and welcoming. If you are considering electrolysis and are looking for an honest consultation and real results, I'd highly recommend setting an appointment with Caroline.
– NV
For as long as I could remember I have had the difficulty dealing with unwanted facial hair. I've tried bleaching, waxing, tweezing, laser, even dermal patches by technicians claiming that it was just like electrolysis when it wasn't-not even close. I had always heard that electrolysis was painful and expensive, so I never tried it. I came across Caroline's website after desperately performing a search. Electrolysis by Caroline was the first name I saw and so I contacted her. Immediately upon speaking with Caroline I knew that she was a professional that knew her craft well. She was straightforward with me and offered me a free trial demonstration - it wasn't bad at all. After meeting Caroline for the first time, I knew I was dealing with a professional who was honest and genuinely committed to helping me with my problem. Caroline explained the procedure step by step with clarity and expertise, and I knew that I was finally going to be able to successfully and permanently manage my unwanted facial hair. Caroline is sincere, friendly, approachable, respectful, and her work is confidential. She makes you feel at ease and does not make false promises. I have been receiving treatments for awhile now and I have noticed a remarkable difference. The embarrassment when talking to people has vanished! I have gained a confidence that was masked before due to unwanted facial hair. I don't have to spend time dealing with it every morning either. All around it has been one of the most beneficial things I have done for myself. I bless every cent I put into the treatments. I would without hesitation recommend Caroline to anyone experiencing a similar situation as I.
– TP
I was referred to Caroline DelJuidice, CPE for electrolysis treatments by a coworker through a dermatologist. Previously I had electrolysis done elsewhere years ago on my legs and I was very satisfied. Caroline is very knowledgeable, professional and friendly. Originally, my sessions were 15 minutes long. Now I have progressed to one hour a week because I have moved to other areas to treat. I have recommended Caroline to my friends. I have even brought one of my daughters for treatment here. If you are interested in beginning or renewing your electrolysis treatments, I would highly recommend Caroline DelJuidice, CPE.
– EM
Electrolysis Achieves Permanent Hair Removal – With Unsurpassed Results